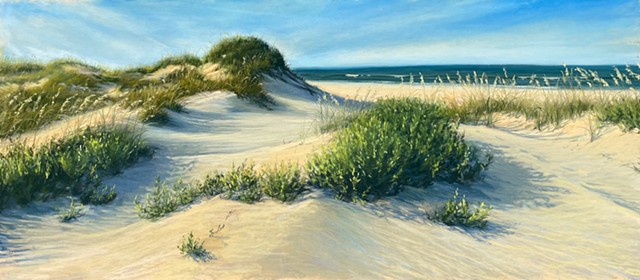 "Untitled, as of yet" 15x30 Pastel







Hello, folks,
Thanks for visiting my website! For some reason, the true colors of the paintings are inaccurate on the site. If you're interested in a painting, I can send you a better photo file via email.
Classes and Workshops
Announcing a new in-person classes starting in January!! I will once again be teaching a class on Wednesday afternoons at the beautiful Greenhouse at the Oatlands Plantation in Leesburg. Come and learn how to use the wonderful medium of soft pastel, while painting amidst the tropical plants and sunshine in mid-winter!
I will also be teaching a class on Thursday evenings at the Arts of Great Falls School of Art beginning in January. Click on Classes above for more info.
I recently received the most exciting news that I have been elected a Signature Member of the Pastel Society of America! I'm so honored to be among this group of talented artists using the wonderful medium of soft pastels. I can now proudly place the initials "P.S.A." after my signature :-)
If you happen to be in the beautiful Outer Banks and want to see some very fine art, check out the Seaside Art Gallery in Nagshead. I have several Seascapes in the gallery. See www.seasideart.com for more information and some beautiful art.
If you would like to be added to my email list for notification of classes, workshops, and exhibits, please leave me your name and email in the Contact section. If you would like to arrange for a private studio visit or if you're interested in private lessons and critique over Zoom, please contact me.
I will spend much of 2023 preparing for a major exhibition in November. Stay tuned...
Stay safe and warm, and have a beautiful Holiday season and blessed 2023!
Lori
"If you could say it in words, there would be no reason to paint."
- Edward Hopper